Wassily Kandinsky, "Two On A Horse", 1906, gouache painting. I love the way Kandinsky used the brush texture of the paint, thick daubs of lighter colors over washed grounds of darker colors, creating a lively sense of light, intense spatial depth and drama of a narrative moment.
Do you need special brushes for gouache?
While you can certainly use watercolor brushes for gouache, synthetic brushes may work better and will be more durable for use with gouache.
Synthetic brushes are not all equal!
Synthetic brushes made from Taklon fibers are the best material I've found so far for meeting the demands of the paint. Taklon is a branded trade name for a polyester fiber which is extruded and tapered to a fine point. These fibers have a very regular, smooth surface which load and hold the paint for good flow and stroke.
Synthetic brushes made from Taklon are springy and retain a good balance of water and paint for working with gouache. Taklon brushes can be soft or stiff, depending on how they're cut and assembled.
Both gold Taklon and white Taklon brushes will work well for gouache. White Taklon is a softer, finer filament, and can be a wonderful choice for wash brushes, or brushes for creating fine or hard line.
The softer white Taklon brushes can be great for glazing and layering without disturbing paint layers beneath.
Brush Construction
While you're shopping, also consider the construction of the ferrule and handle. Look for non-corrosive metallic ferrules such as aluminum or brass.
Brush Handles
I have converted to mostly plastic or acrylic handles for my gouache brushes, because I often leave some of the least delicate brushes standing in water during a painting session. Wood absorbs water and the enamels or lacquers crack, damaging the exposed raw wood and loosening the ferrule, which weakens the bond between handle and fibers.
Some acrylic handles have diagonally sliced ends, useful for drawing back into thick wet layers of gouache, which gives you two tools in one. Handy.
If you want to avoid plastics, make sure the wood is painted with quality enamel or lacquer, and avoid leaving your brushes sitting in water for long periods.
Brush Sizes & Shapes
It can be a bit overwhelming to browse among brush sizes and variations. Don't panic! Take a moment to reflect on your own work and think about how you've used your brushes so far, then look for brushes that are designed for that purpose. If you're just starting out, you may not know yet, and that's fine! Explore slowly.
You may want to consider smaller brushes for detailing, bigger brushes for washes, or mid-sized ones for general versatility. The brushes you actually need are the ones suited to your painting style. The only way you can know that is to experiment. And take notes in your paint journal.
Brush Brands
Some recommended brushmaker brands (as of this post)
Royal & Langnickel Golden Taklon, Royal & Langnickel White Taklon
Royal AQUALON
CLEAR CHOICE Gold Taklon
Gold-N-Flo Golden Taklon Watercolor Brush
Brush Collections & Sets
Brush sets can save you time and money, and allow you to experiment with a variety of brush profiles. Most brush sets already contain a balanced collection for your basic needs, and you can fill in from there.

Collect your brushes gradually! Don't feel pressured to get them all. It's good to start with a few essentials and expand your collection slowly as you experiment.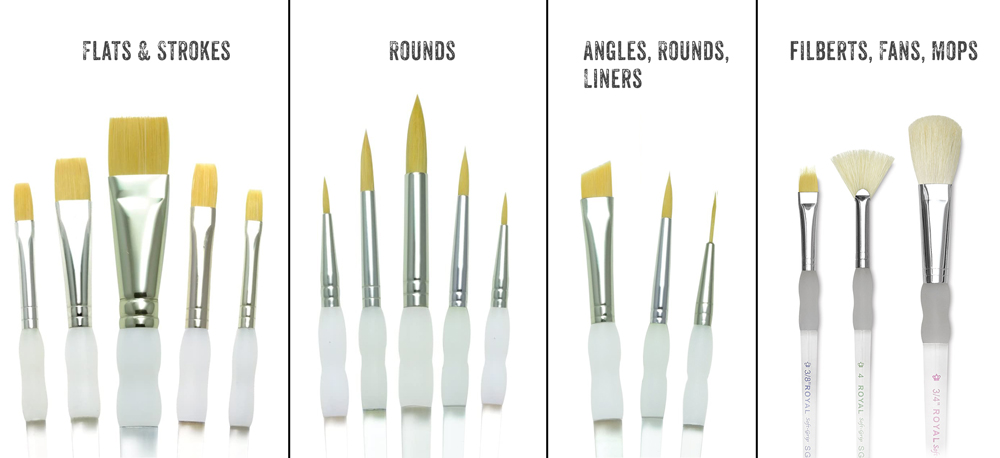 I don't flood your inbox, but I will keep you informed. I never sell or share your email address or any other contact information with anyone else, and you can unsubscribe at any time.