Beware The Dragonfly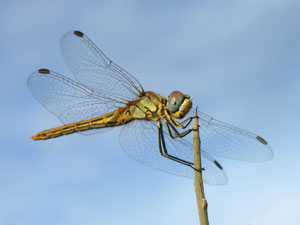 You know how dragonflies usually zip away when you come too close? This one did fly away, but it kept coming back, and then it stayed.
I don't know why it stuck around for so long. I'd just pruned back the lavender where it was perched - maybe it was soaking up lavender essence. What a lovely thought. Or maybe it was just tired. Or dreaming.
But the amazing thing was to see a dragonfly tongue at work! Have you ever seen one? It was very tiny, and nearly transparent, and edged with black - much like its wings. Tired or not, that tongue was busy, and fast!
I'd never thought about a dragonfly tongue before.
It reminded me how many amazing things there are in this world that I might never notice.
When I do notice something as perfectly wonderful as the engineering of a dragonfly tongue, I'm reminded once again how the artist's job is to render the unseen and make it visible in a meaningful way.
So I'd best pay attention. There is extraordinary design everywhere.
---
Stay In Touch
If you're on Facebook, check out my Art and the Studio group for conversations and dialog about the making of art.
---
Hey, Artists!
Would you like to create real income from sharing what you know while traveling to places you want to experience? Check out the Golden Dragonfly Traveling Academy for Art. It's a special kind of place where you can create and sell your own workshops or retreats.
Grow your audience, see the world! For artists and art lovers who love to travel
---
If you'd like to stay informed about workshops, retreats, sales and shows, the best place is my art newsletter.
I don't flood your inbox, but I will keep you informed. I never sell or share your email address or any other contact information with anyone else, and you can unsubscribe at any time.